Event
17. October 2019 at 20:00 until 22:30
Andy Strauß • The Dark Side Of The Strauß • Wuppertal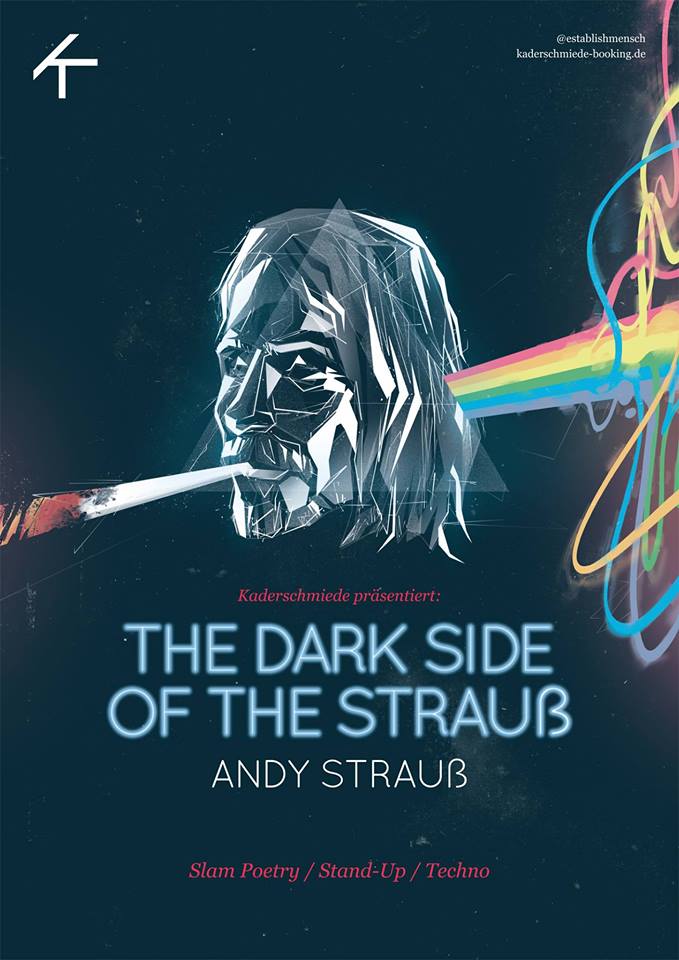 Öffentlich · Gastgeber: Utopiastadt und Andy Strauß und Hutmacher
Kaderschmiede & Utopiastadt präsentieren:
Andy Strauß • The Dark Side Of The Strauß
17.10.19 • 20.00 • Live in Utopiastadt
Andy Strauß ist ein Sprengmeister der Genre-Grenzen. Es gibt kaum ein Feld, dass er in seiner dreizehnjährigen Bühnenkarriere noch nicht bespielt hat: Ob als durchgeknallter Poetry Slammer, betrunkener Frühstücksfernsehmoderator, Techno-Jesus oder Bühnentänzerin einer Metal-Band im Tütü – überall macht er eine gute Figur. Nach dreizehn Jahren ist Zeit, Zwischenbilanz zu ziehen. Was waren die abstrusesten Dinge, die in dieser Zeit so passiert sind? Was geschieht eigentlich wirklich im Backstage? Und was wird an diesem Abend passieren? Eine Mischung aus Stand-Up, Storytelling, Poetry Slam, Kunst-Performance, Tanz und wirklich merkwürdiger Musik. Und düster wird es. Ganz, ganz düster.
Wenn sie diesen Abend nicht miterleben, werden sie am Montag einfach nur vom langweiligem Tatort am Sonntag berichten können. Und echt, das will doch keiner.
Die Veranstaltung ist bestuhlt.
Einlass: 19.30
Beginn: 20.00
Tickets:
12,- VVK (plus Gebühren)
15,- AK (wenn verfügbar)
via wuppertal-live.de und bei allen angeschlossenen Vorverkaufstellen.